20 février 2007
New Russian Fashion Star Blends Patriotism and Irony
The Washington Post
Denis Simachev / For The St. Petersburg Times
A model wearing a Simachev tank top.
MOSCOW — At the recent menswear shows in Milan, Denis Simachev, a rising star of Russian fashion, showed a collection that focused on the country's antiheroes, telling a story of bare-knuckled thugs working casinos in what he called "badly put together gangster wear."
Titled "Gop-Stop"— which can only be translated as "bang-bang" — the provocative spoof offered instructions on how to dandify the Russian Soprano: Add a little raccoon trim to a double-breasted jacket, put gold zippers on tweed trousers and line everything with a traditional red and black floral print usually saved for lacquered boxes.
"What Simachev does is combine sincere patriotism with sophisticated irony," says Alyona Doletskaya, editor in chief of Vogue Russia.
Simachev, 32, also creates what he calls living billboards — Putin's image on pink T-shirts with floral borders usually reserved for religious icons, for instance, or images of the hooligan wolf from the Soviet Union's Road Runner-style cartoon, "Nu, Pogodi" ("I'll Get You"). His boutique offers T-shirts proclaiming "Oil Is Our Everything" in Russian, bracelets with kopeks hanging off them and sheepskin coats featuring the traditional Gzhel floral pattern. There will be more Gzhel when he shows his women's collection next week in Milan.
"My roots are still Russian and I will never run out of Russian ideas," Simachev says. "But I think the clothes are international and understandable."
Simachev has a workshop in a former gasworks factory here that employs 150 people and where he takes meetings in a felt yurt, replete with fur pillows. More than 40 boutiques carry his clothes in Japan, Europe and Los Angeles. His first Simachev boutique opened this year on Stoleshnikov Alley, Moscow's poshest pedestrian street.
The success of Simachev and at least a dozen other Russian designers was not possible 10 years ago, when only one homegrown designer, Valentin Yudashkin, now 45, endeared himself to the international fashion press. He did this with a catwalk presentation of majestic, walking Faberge eggs — one of the dresses is now in the Metropolitan Museum of Art in New York. Yudashkin was the first Russian to be invited to Paris Fashion Week, in 1991, and his fashion house came to represent Russian luxury abroad. (Since 2002 he has taken part in Milan Fashion Week every year.)
Today, in contrast, a parade of designers from Magnitogorsk in the Urals to Kiev, Ukraine, are creating small multi-brand boutiques in Moscow and the provinces and are showing their stuff at one of Moscow's two fashion weeks.
They include Igor Chapurin, who designs for the Bolshoi Ballet and shows his collection in Paris, and the firm Nina Donis (designers Nina Neretina and Donis Pouppis), who participated in London Fashion Week in 2005. Yulia Dalakian, who once worked for Roberto Cavalli, returned with an ultra-feminine style and a boutique next to the Tretyakov Gallery. These European credentials help them with their audience at home.
"We are experiencing a terrific inflow of energy from young designers. For the first time there are lots of new names and fantastic examples of success," said magazine editor Doletskaya.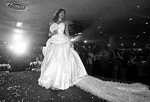 Mikhail Metzel / The Associated Press

Former Miss Universe Rumyana Marinova of Bulgaria modeling a diamond-studded bridal gown at a Moscow show last week.

When Vogue came to Russia nine years ago, it was one of the first fashion titles. Today Russian Vogue has 150,000 readers and lots of competition. L'Officiel has a successful Russian edition, as does Harper's Bazaar, and Russian magazines have begun to appear with names like Fashion Life and Style.

The middle class has grown more resilient since the economically tumultuous 1990s, when women typically bought designer boots, jeans and perfume on the black market. In 2006, clothing and footwear sales in Russia increased 13 percent from the previous year to $5.4 billion, said Raphael Moreau, a clothing retail analyst with Euromonitor. (Luxury goods sales totaled about $3.5 billion in 2004, with $600 million coming from luxury clothes.) The growth is due, in part, to the increase in stand-alone boutiques, malls and other shopping complexes, in place of the traditional Russian markets. For instance, Ralph Lauren recently announced it will open two boutiques in Moscow in 2007.

And sales of cosmetics, the luxury good for the masses, are predicted to increase from $5 billion to $15 billion in the next five years.

On a recent afternoon, Simachev stepped over mannequins and talked over the automatic drilling in his new Moscow boutique, nestled above his 24-hour, semiprivate club. The shop and club are squeezed next to Hermes and across from Louis Vuitton. Roman Abramovich, one of Russia's best-known billionaires and owner of the Chelsea soccer team in London, is rumored to be Simachev's primary investor. Simachev will neither confirm nor deny the gossip, which has been reported in the Russian press. (Designers here don't often reveal their patrons.) But his popular "Chukotka" collection, which paid tribute to the clothes of indigenous people in the Chukotka region, may have been inspired by Abramovich, the former governor of the region.

"We do have an investor who is Russian and sees this as a business," says Anna Dyulgerova, managing director for Simachev.

The business side of Russian fashion remains undeveloped. Designers moan about the lack of infrastructure and the cannibalism between two fashion weeks in a city that should only have one. "There's no hope for the textile industry here," says Simachev. "It's much easier to make a profit in oil than in cotton." Distribution has long been a problem in Russia, but it is improving. And Russian designers' clothes are appearing in Tsum, one of Moscow's most venerable stores, and department-style stores in the provinces.

"We had the form before the content, and the style before the structure," says Chapurin.

Popular taste is changing, too, as shown by television anchorwomen who are brave enough to mix Chapurin with Chanel. From the early 1990s, when the first boutiques opened, Russians slavishly bought European brands and for the most part snubbed their own kind. But Russians are tiring of head-to-toe Dolce & Gabbana and are starting to mix Russian designers with their European favorites.

This has all been good news for designers like Simachev, who flew to Paris in 2001 with a suitcase of "Russian spirit" clothes during Fashion Week and was politely told to leave. He tried again, and a Paris showroom thrust him on the stage. Simachev is probably the only Russian designer who has never had a ready-to-wear show in Russia.

Sitting on a Lucite chair in her modern glass-box office, Doletskaya wonders if Russian design, despite its low profile in the last century, could reach a critical creative mass, much like Belgian design.

"They are sending very strong statements — sophisticated, subtle and ironic," Doletskaya says. "Russian fashion is very new, and exciting, and it could happen."